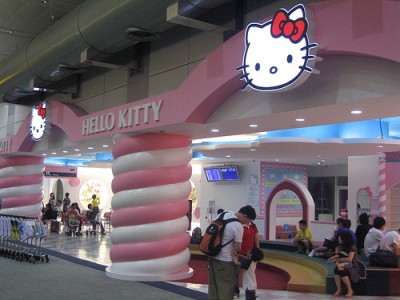 Have you ever seen an entire departure gate transformed to a popular children's brand theme? No? Then you haven't been to Taiwan's Taoyuan International Airport airport - terminal 2.
When you get dropped off from the busy streets of Taipei at Taiwan's largest, international airport (IATA) (traditional Chinese:

臺灣桃園國際機場

; simplified Chinese:

台湾桃园国际机场

), you expect a very crowded scene, but when I was there on a regular Thursday evening, the airport was surprisingly quiet. Who knows, maybe the large check-in hall and the usual Asian way of building airports for the future (read: big) might have deceived my senses as my flight was full to the last seat.
After the equally quick security check (luckily the stupid hasn't arrived in Taiwan yet), you end up in an area between two main arms to the right and left containing all the departure gates.